Used by pro-level producers, composers, and musicians worldwide, Cubase is one of the most reputable DAWs in the industry. For Cubase Artist 12, Steinberg streamlined workflows with more control customization options than ever, new instruments like the Verve felt piano, and fresh functions and plugins. Cubase Artist 12 includes a vast array of VST processors and instruments, along with a useful cache of sounds and samples. An undeniable top-shelf software package, Steinberg Cubase Artist 12 gives you everything you need to turn musical inspiration into studio-quality productions.
Note: Cubase Artist 12 does not support 32-bit plug-ins. Cubase 12 licensing is now fully digital and no longer requires a Steinberg USB authorization key. Please contact your Sweetwater Sales Engineer for questions or information.
Fresh features for Cubase 12 Artist
MIDI Remote integration: MIDI Remote scripts are revolutionizing production workflows — map functions to your MIDI devices for faster control
VariAudio with Scale Assistant: Improved precision pitch editing for both processed and organic vocal corrections
Audio to MIDI chords: Groundbreaking drag-and-drop Chord Track lets software automate MIDI recreations of audio files, great for study, inspiration, and more
FX Modulator: A robust multi-effect modulator hub for adding texture and depth to sounds
AudioWarp improvements: Correct audio and timing issues with fewer clicks than in previous Cubase versions
Workflow improvements: Updated workflow functions and command keys
Sample accurate volume automation: Incredibly precise automated sample volumes independent from the buffer size
Verve: A timely new felt piano sample suite that adds the warm dreamy intimacy of felt-padded keys to your bag of tricks
Sample accurate volume automation: Cubase 12 can now automate incredibly precise sample volumes independent from the buffer size
Full digital licensing: Say goodbye to Steinberg USB authenticator keys, it's all digital now!
Compose music the easy way with Chord Pads and Chord Track
Writing chord progressions with Cubase is super fast thanks to its easy-to-use Chord Pads. Play with chords and patterns in real-time, while using Cubase parameters to change chords as you go. You can play Chord Pads with your MIDI keyboard with real-time effects for easy writing and experimentation with the ability to change voicings, harmonic tensions, and more as inspiration strikes. Plus, Cubase 12 Pro's new adds Chord Track enables automatic conversion of audio files into MIDI data for rapid adaptation of audio to your tracks.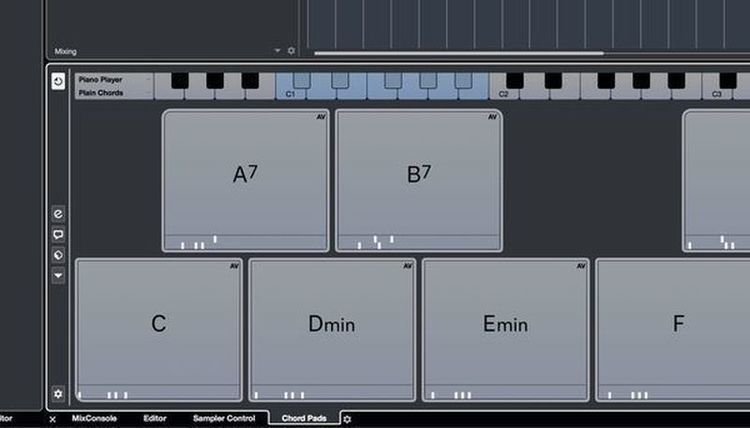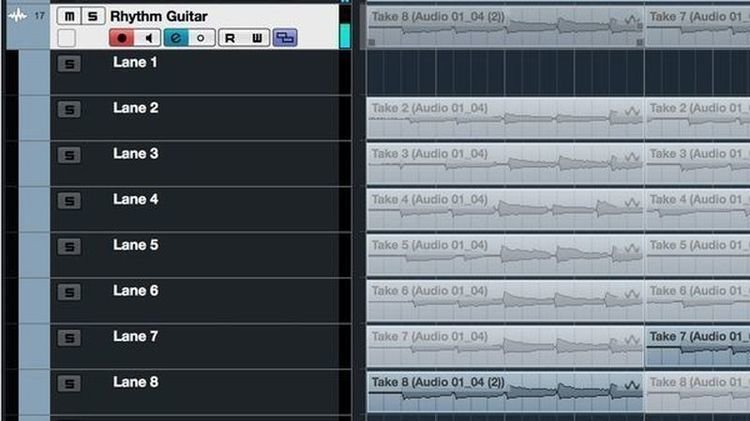 Create a perfect track with Comping
Here at Sweetwater, we know that perfect takes usually take time which often means managing multiple takes of a single track in your DAW. That's where Comping comes in. While you're tracking, Cubase instantly creates a Lane Track for each take. You can easily swipe across the best parts after completing multiple takes while Cubase automatically creates a master take from your selected parts. Building a perfect track couldn't be easier!
Transform your audio with AudioWarp Quantize
Ever wish you could quantize audio the same way you quantize MIDI? With Cubase you can, using the convenient Quantize panel! A single mouse click is enough to non-destructively quantize single audio loops as well as your entire project. And because the audio events are warped rather than sliced, they automatically follow tempo or pitch changes within your project. In Cubase 12, AudioWarp is new and improved for streamlined workflows and track integration with fewer clicks.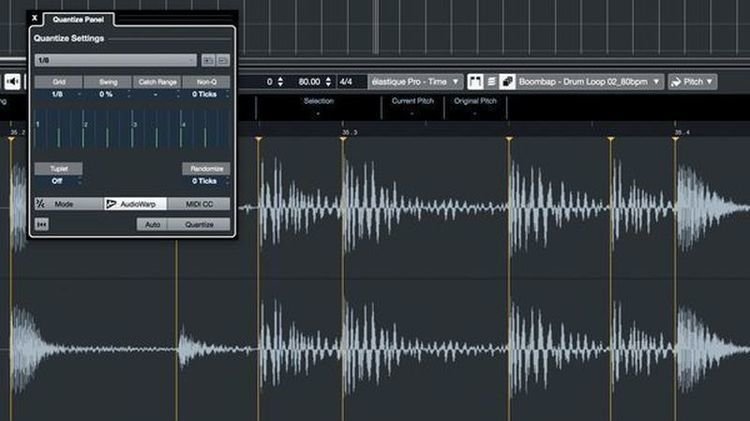 Bring your visions to life with Channel Strip
Cubase's Channel Strip was developed in collaboration with seasoned audio engineers, and it shows — it's jam-packed with the feel and flavor of a top-tier analog console. Channel Strip modules are integrated into every mixer channel, ready to transform your songs into premium productions.
Turbocharge your mixing workflow with MixConsole
Not only does it shine with regard to usability, look, and feel, Cubase's MixConsole also captures the sonic essence of a high-end analog console. Its scalable full-screen mode is tailor-made for mouse-free operation, allowing you to use your computer keyboard to access its channel elements. It's also optimized for screen readers for the visually impaired. View Sets and Channel Zones ensure maximum flexibility, while features like VCA faders, 1-click direct routing, customizable track icons, a track notepad, drag-and-drop support, and plug-in/channel search functions make you feel like you have a state-of-the-art mixing console in your computer.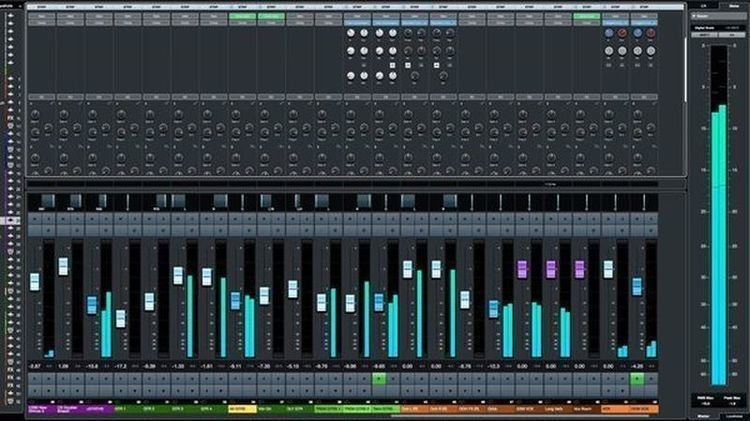 Спецификации
Audio/MIDI DAW

Mac, PC

Full

Download

64-bit

VST2, VST3

Steinberg Licensing (online sign-in activation)

Intel Core i5 or higher, 8GB RAM or more recommended, 70GB Drive Space

Intel Core i5 / AMD Ryzen or higher, 8GB RAM or more recommended, 70GB Drive Space

macOS 11.6 or later

Windows 10 21H2 or later
Още
Документи за сваляне и драйвери
Внимание
След нарушаване на фабричната опаковка и/или регистрация на ауторизирания код за лиценз, софтуерът не подлежи на връщане или замяна.
За производителя
Steinberg Gmbh е немска компания основана през 1984 г. oт Карл Стайнберг и Манфред Рюруп в град Хамбург. Тя проектира и произвежда софтуер за звукозапис, аранжиране и редактиране, звукови карти и контролери.
Първият им продукт е MIDI секвенсера Steinberg Pro 16 за Commodore 64. Компанията променя името си от Steinberg Research на Steinberg Soft - und Hardware GmbH, а няколко години извършва дейност в САЩ и под името Steinberg North America, Inc. През януари 2003г. е купена от американската фирма Pinnacle Systems в рамките на която действа, като независима компания, произвеждаща своите продукти, преди да бъде продадена на Yamaha през декември 2004г.
Откакто е основана през 1984г., Steinberg постоянно преминава границите на възможностите на дигиталния звук. Революционните технологии на Steinberg предлагат гъвкави, достъпни като цена и интуитивни начини за реализирането на вашия пълен творчески и професионален потенциал.