Промоция на Микрофон RODE NT1-A + Аудио интерфейс Universal Audio VOLT 476:
ПРОМО ЦЕНА: 869 лв.
RODE NT1-A Cardioid Condenser Microphone: Цена: 423 лв.
+
Universal Audio VOLT 476: Цена: 669 лв.
= Обща редовна цена: 1092 лв.
The NT1-A is an industry standard large-diaphragm condenser microphone. Delivering warmth and clarity, extended dynamic range, high SPL capability, and incredibly low self-noise, it's a true studio workhorse, perfect for recording everything from vocals to acoustic guitar to drums.
Key Features:
Large-diaphragm 1" gold-sputtered capsule
Cardioid polar pattern
Ultra-low self-noise (5dBA)
Wide dynamic range
Internal capsule shock mounting
Comes in complete recording kit, with a RØDE SM6 shock mount, pop filter and dust cover
Vocal Performer
The NT1-A is a classic large-diaphragm true-condenser microphone that exhibits stunning warmth and clarity, making it ideal for recording vocals of all types. Its smooth, silky character brings every performance to life, while its extended frequency response ensures every nuance is captured with incredible accuracy. The NT1-A also comes with the studio-grade SM6 shock mount and pop filter for clean, plosive-free recording.
Instrumental Clarity
The NT1-A is a true studio workhorse that excels in a wide range of instrument recording applications, as well as vocal and spoken-word recording. Its sparkling top end brings acoustic guitars and pianos to life, while its high SPL capability makes it an excellent drum and percussion microphone.
Gold-sputtered Capsule
The heart of the NT1-A is its 1-inch gold-sputtered capsule. Precision manufactured to sub-micron tolerances at RØDE's state-of-the-art facility in Sydney, Australia, it delivers the legendary warmth of classic studio microphones without compromising on frequency response or SPL handling. Its tight cardioid polar pattern helps to reject unwanted sounds and its controlled proximity effect delivers a rich, intimate sound that is always balanced.
Supremely Quiet for Superior Sound
The NT1-A is one of the quietest studio microphones in the world, with a self-noise of just 5dB(A). This ensures every recording is exceptionally clean, even when capturing soft sound sources.
Complete Vocal Recording Kit
The NT1-A comes with the RØDE SM6, a high-quality suspension shock mount that provides isolation from external physical factors that may cause unwanted rumble and vibrations in the microphone. It includes a removable pop shield with two axes of adjustment and a telescopic arm for ultimate application versatility. A high-quality XLR cable is also supplied.
| | |
| --- | --- |
| Acoustic Principle | Pressure Gradient |
| Active Electronics | JFET impedance converter with bipolar output buffer |
| Capsule | 1.00" |
| Polar Pattern | |
| Address Type | Side |
| Frequency Range | 20Hz - 20kHz |
| Output Impedance | 100Ω |
| Maximum SPL | 137dBSPL |
| Maximum Output Level | 13.7mV (@ 1kHz, 1% THD into 1KΩ load) |
| Sensitivity | -31.9dB re 1 Volt/Pascal (25.00mV @ 94 dB SPL) +/- 2 dB @ 1kHz |
| Equivalent Noise Level (A-weighted) | 5dBA |
| Power Options | |
| Weight | 326.00g |
| Dimensions | 190.00mmH x 50.00mmW x 50.00mmD |
| Output | |
| Warranty | 1 year with free extension to 10 years following registration here |
Спецификации
Large 1" capsule with gold plated diaphragm

Cardioid polar pattern

Ultra low noise, self noise of only 5dB (A)

Wide dynamic range

True condenser (externally biased)

Internal capsule shock mounting

Includes RØDE SM6 shock mount, pop filter and dust cover

10 year extended warranty when you register your microphone
Още
Документи за сваляне и драйвери
В кутията
Nt1-A
SM6
XLR cable
Dust cover
Гаранция
2 години по ЗЗП,10 години (след регистрация на rode.com).
За производителя
Røde Microphones е австралийска компания, създадена още през 1967 г. под името Freedman Electronics. Тя е специализирана в производството на микрофони, аксесоари и музикален софтуер, които се използват предимно в студиа, концерти и в броудкаст индустрията. Хората, които изпозват продуктите на Rode характеризират марката с чист тон, топлота на звука, изтински, надеждни.
Cutting-edge Interface with Built-in Analog Compression
The Universal Audio Volt 476 leverages UA's renowned analog expertise to deliver a USB-C audio interface worthy of a decades-long legacy. The Volt 476 boasts top-flight analog circuitry, along with class-leading 24-bit/192kHz AD/DA conversion, enabling you to create professional-sounding music productions, livestreams, and podcasts. This bus-powered audio interface boasts two microphone preamplifiers with switchable 610-style analog sound, two additional line inputs, and convenient input metering. This interface's crown jewel, however, is its built-in 1176-derived FET compressor with three push-button application modes. Beyond that, six analog outputs and a headphones output make monitoring a snap, plus you get direct monitoring for zero-latency operation. You also get MIDI I/O for your synths and controllers. The Volt 476 vaunts a rugged, retro-inspired industrial design and comes with a cutting-edge native software bundle.
Armed with class-leading AD/DA conversion
The Universal Audio Volt 476 includes outstanding AD/DA conversion — a must-have feature for professional-sounding tracks. This optimized conversion circuitry delivers true 24-bit/192kHz performance, ensuring true-to-life detail and clarity with tons of dimensionality. The engineers here at Sweetwater have found that projects recorded via this USB-C audio interface are top shelf all the way. With the Volt 476 in your studio, you'll be able to produce rock-solid, album-worthy tracks.
Infuses your tracks with 610-style analog sound
UA is renowned for their classic analog designs, and the Volt 476 reflects their decades of experience. This audio interface includes two analog mic preamplifiers that sound startingly similar to Universal Audio's classic 610 tube pre. The Volt 476's Vintage Preamp Mode employs expertly designed op-amps and solid-state electronics to deliver tube-like dynamic saturation and clipping, arming you with powerful, intuitive tone shaping for your microphones and line-level signals. Best of all, Vintage Preamp Mode is selectable, which enables you to use the Volt 476 with external preamps and channel strips with zero added coloration.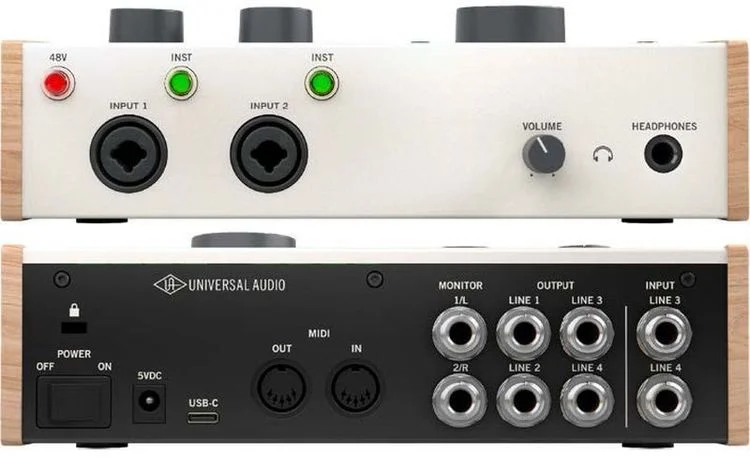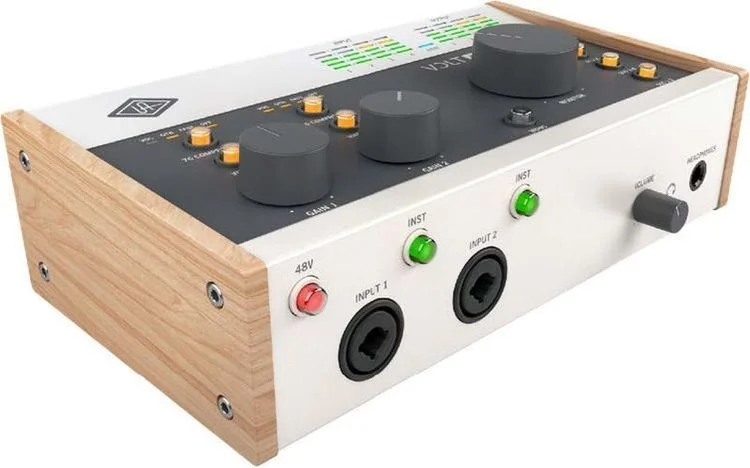 Includes a real-deal 1176-derived FET compressor
The UREI 1176 is legendary — a bona fide pro studio workhorse that can be used to add punch and presence to everything from drums to guitars to vocals. The Volt 476 includes a built-in FET compressor based on the classic 1176. But this isn't a digital emulation; rather, it's a real-deal analog compressor. The Volt 476's compressor includes three easy-to-use push-button modes for Vocals, Guitars, and Fast sources (the latter is tailor-made for drums), ensuring optimal settings for any source.
Universal Audio Volt 476 USB-C Audio Interface Features:
4-in/4-out USB-C audio interface with 2 microphone preamps

Top-flight analog circuitry and class-leading 24-bit/192kHz AD/DA conversion

Selectable Vintage Preamp Mode employs solid-state electronics for tube-like dynamic saturation and clipping

Convenient input metering makes setting levels a piece of cake

Built-in 1176-derived analog compressor with 3 expert presets

6 analog outputs and a headphones output make monitoring a snap

Direct monitoring supplies zero-latency operation

MIDI I/O for your synths and controllers

Rugged, retro-inspired industrial design with wood side panels

Comes with a cutting-edge native software bundle
Гаранция
2 години.
За производителя
Univesal Audio са американска компания основана през 1958 г. от Бил Путнам. Още от самото начало името на компанията Universal Audio е синоним на новаторски продукти за звукозапис. Любим инженер на Франк Синатра, Нат Кинг Коул, Рей Чарлз и много други, Бил Путнам e страстен новатор, на когото навсякъде се гледа като на бащата на модерния звукозапис. Много от неговите легендарни студийни проекти и оборудване все още се използват и до днес.