Китарен усилвател IK Multimedia iRig Micro Amp
Описание
15W battery-powered guitar amplifier with iOS/USB interfac
iRig Micro Amp is a compact, battery-powered amp that lets you do more. At 15W RMS, it's louder than you'd expect and covers a range of tones, with 3 custom-voiced analog channels: clean, drive, and lead.
But iRig Micro Amp's real magic comes from the included high-quality connection to your iPhone, iPad and Mac/PC. Jam through 10 amp and 26 stompbox models with the included AmpliTube CS app, plus 9 amp and 10 stomp models from AmpliTube 4 on Mac/PC.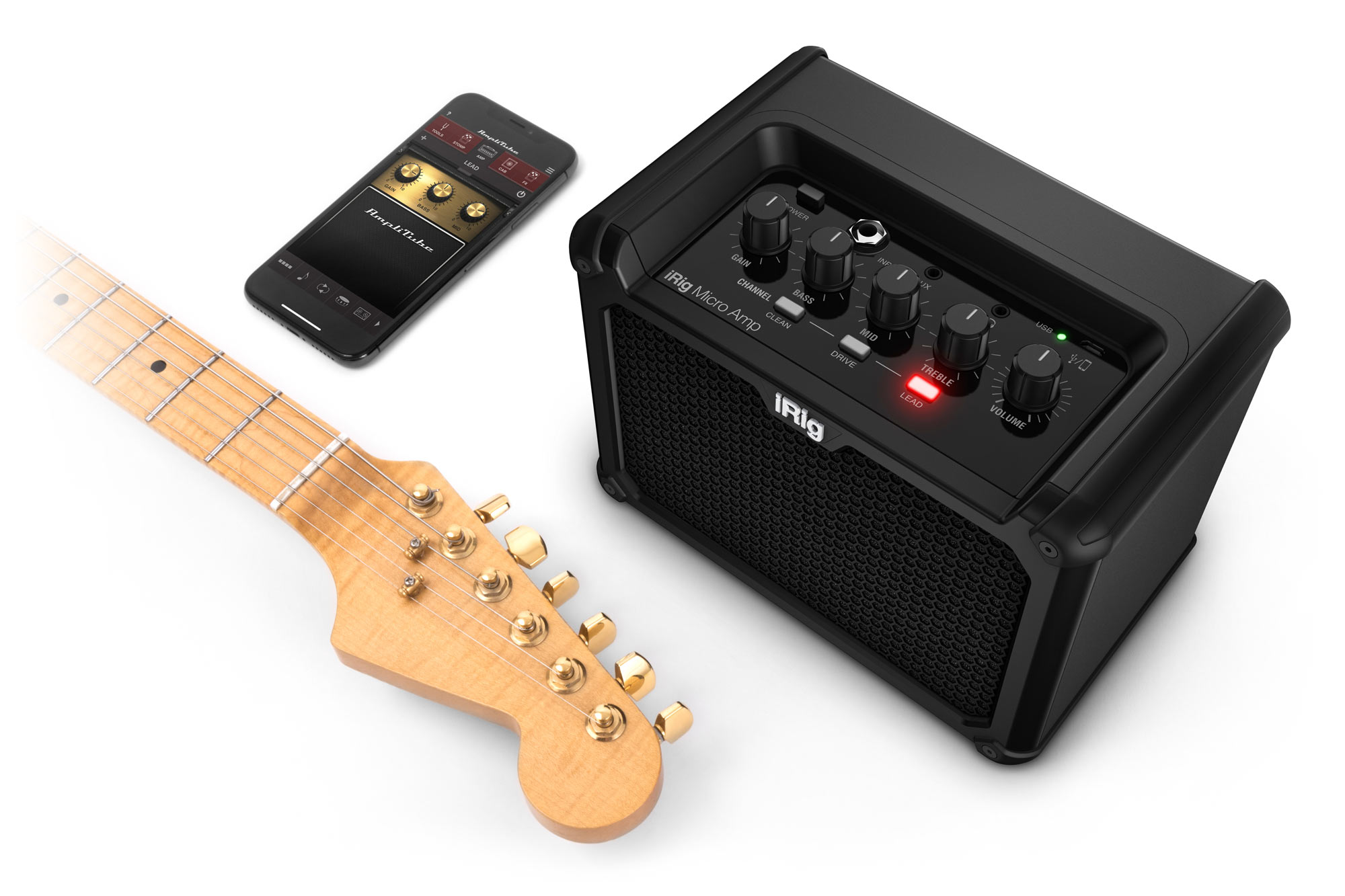 Plus, iRig Micro Amp's connection lets you plug into all your favorite apps and software. Learn new songs, practice your favorite licks, perform with backing tracks, and even record your own songs easier than you ever imagined. All this in an ultra-compact size that's easy to carry anywhere. With iRig Micro Amp you'll never stop finding ways to take your playing further.
A pint-sized powerhouse
iRig Micro Amp offers 15W power when plugged in, and 7.5W when running on 6 x AA batteries. Combined with a 4" custom-voiced speaker, it pumps out surprising volume at half the size of similarly-powered amps. So it's perfect for everything from a bedroom or desktop, to jamming with friends or street busking. It offers 3 analog channels: clean, drive and lead, with the rich, warm sound you'd expect from the tone gurus behind AmpliTube. You get low, mid and high tone controls, plus adjustable gain, to easily dial in nearly any sound.

Need more volume or a bigger speaker? iRig Micro Amp also offers a cabinet output, so it can keep up with a full drum kit for band practice. An aux input lets you connect any analog input, like an MP3 player, to jam along, and a headphone output is perfect for silent practice.
With its compact size and flexible options, iRig Micro Amp is the perfect option for your gig bag, to be able to practice, jam or perform anytime, anywhere.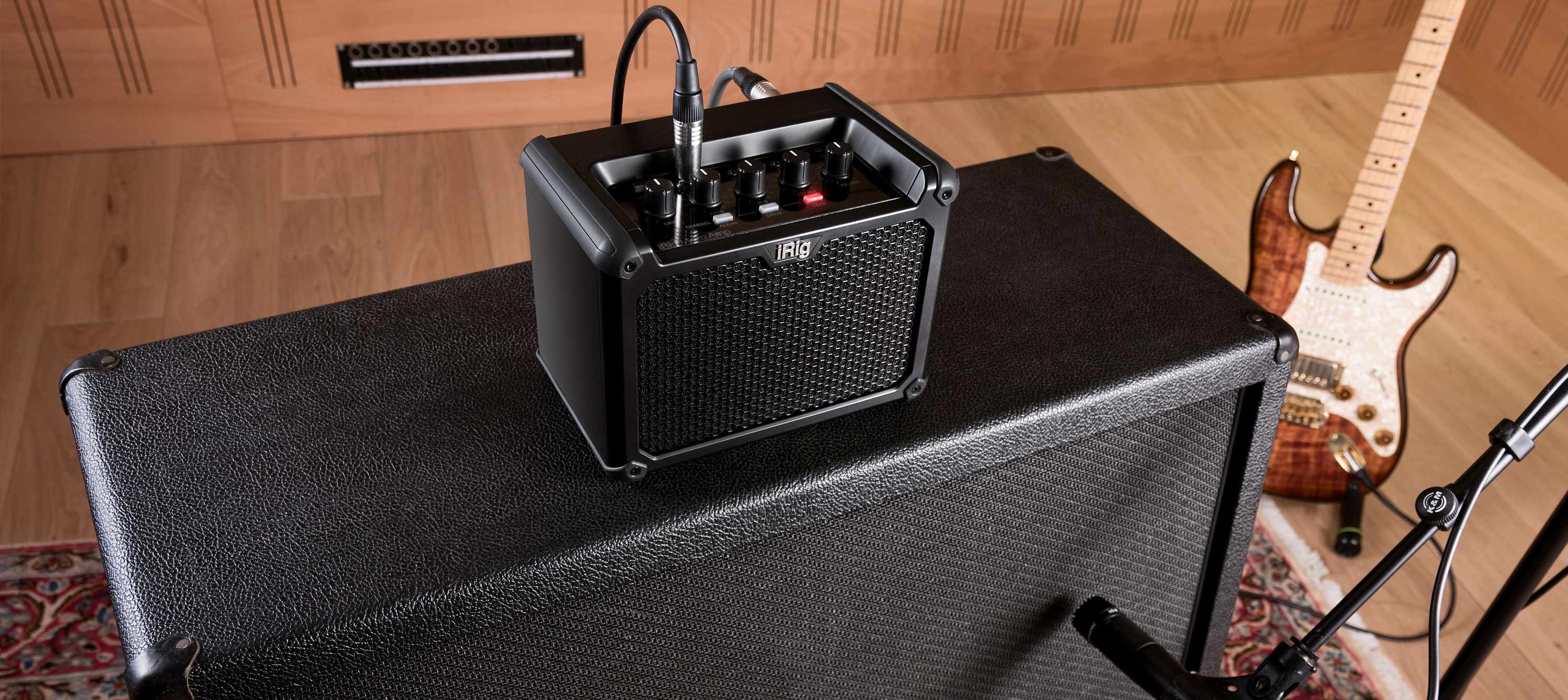 Plug in. Rock out.
iRig Micro Amp also connects to your iPhone, iPad, Mac and PC, routing your guitar's signal to your device to process or record, and plays back directly through the 4" speaker. It's an entire setup in a single integrated unit derived from IK's award-winning iRig HD 2 mobile guitar interface, with 24-bit, 96 kHz for pristine sound quality.
With the included AmpliTube app and software, Micro Amp delivers the widest range of tones and a level of accuracy you've never heard in a practice amp before. iRig Micro Amp unlocks 10 amps and 26 stompbox effects in AmpliTube CS for iPhone or iPad, and includes AmpliTube 5 SE for Mac/PC for 13 amps and 19 stomps. Right out of the box you can enjoy everything from vintage twang to screaming high-gain, and all the tone-shaping pedals you'd want.

You can easily expand your sonic collection with IK's range of additional amp and effect models – there are over 280 pieces to choose from, including officially licensed re-creations of gear from Fender®, Orange®, Mesa-Boogie® and other iconic gear manufacturers, as well as guitar legends like Slash, Jimi Hendrix and Dimebag Darrell, all available a la carte.
Play. Practice. Record.
Beyond AmpliTube, iRig Micro Amp lets you connect to an endless array of apps and software. Learn new licks, polish your technique, or jam along with your favorite songs – iRig Micro Amp makes it easy and fun so you'll never get bored. iRig Micro Amp also makes it easy to start recording your own music. With apps like GarageBand, it's a cinch to capture your ideas or even record a full track. But Micro Amp also works with professional recording software like Logic, Pro Tools and more, creating a convenient desktop setup for use on the go.
There's never been an amp that offers you this many ways to make music in a size you can carry anywhere. iRig Micro Amp really does let you take your playing further.
Характеристики
Compact battery-powered guitar amp
1 x 4" speaker for fuller sound
15W RMS, as loud as amps twice its size
3 analog channels: clean, drive, lead
Low, mid & high EQ and gain controls
Headphone output for silent practice
Aux input to connect mp3 players
Cabinet out connects to external speakers
Connects to iPhone, iPad, and Mac/PC
24-bit, 96 kHz quality for professional sound
Unlocks 10 amps & 26 stomps in AmpliTube CS for iOS
Includes AmpliTube 4 for Mac/PC for 9 amps, 10 stomps
Спецификации
Common
Speaker: 1×4" full range
Output power: 15W (DC IN powered) or 7.5W (battery powered)
Power supply
Power: battery power (6xAA), or DC power supply (9V-15V DC, from 1500mA up, negative inside – not included)
Battery duration: approx. 15h with 6xAA alakline
DC IN: 9V-15V DC negative inside
USB Interface
Conversion: 24-bit A/D, 24-bit D/A
Sampling Rate: 44.1 kHz, 48 kHz, 88.2 kHz and 96 kHz
Device Connection: micro-USB
Instrument Input
Connector: unbalanced, Hi-Z, TS 1/4" Jack. Tip: signal / Shield: ground
Instrument Input Level: from 30mVpp to 6.9Vpp
Instrument Input Impedance: 1MOhms
Frequency response: 20 Hz – 20kHz +/-1.5dB
Stereo Headphone Output
Connector: 1/8" TRS Jack. Tip: right / Ring: left / Shield: ground
External Speaker Output
Connector: 1/4" TS Jack
Load impedance: from 4 to 16 Ohms
Dimensions and weight
Dimensions: 210mm x 125mm x 155mm
Weight: 1.26kg
Package includes
iRig Micro Amp
Lightning to micro-USB cable 60cm
USB A to micro-USB cable 60 cm
6 x 1.5V AA battery
3/8″-16 male to 5/8″-27 female mic stand thread adapter
Compatibility
iOS Devices
Compatible with iPhone X, iPhone 8 Plus, iPhone 8, iPhone SE, iPhone 6s Plus, iPhone 6s, iPhone 6 Plus, iPhone 6, iPhone 5s, iPhone 5c, iPhone 5, iPod touch 6th generation, iPod touch 5th generation, iPad Pro 10.5-inch, iPad Pro 12.9-inch (2nd Generation), iPad Pro 9.7-inch, iPad Pro 12.9-inch (1st Generation), iPad mini 4, iPad Air 2, iPad mini 3, iPad Air, iPad mini 2, iPad mini, iPad 5th generation, iPad 4th generation. iOS 6 or later is required.
Computers
Mac®: macOS® 10.6 or later. One free USB port required.
Windows®: Fully supports Windows 10 WASAPI for low latency audio. One free USB port required. (ASIO4ALL is required on Windows 7 and 8 for low latency audio. See our FAQ here for further details.)
В пакета:
iRig Micro Amp
Lightning to micro-USB cable 60cm
USB A to micro-USB cable 60 cm
6 x 1.5V AA battery
3/8″-16 male to 5/8″-27 female mic stand thread adapter
За производителя
IK Multimedia е компания, основана през 1996 г. в Модена, Италия. Mарката произвежда най-различни продукти за запис и създаване на музика. През последните години тя е изключително актуална със своите приложения и аксесоари за платформата на Apple – IOS и продуктите iPhone, iPod Touch и iPad.
Закупувайки този продукт вие получавате:
Гаранция за физическо лице: 24 м. (гаранцията не важи за аксесоари и кабели)Безплатна доставка при поръчка на стойност над 100 лв.Проверка на пратката и 14 дни право на връщане.
Само влезли клиенти, които са поръчали този продукт, могат да оставят отзив.