Описание
AXE I/O is a professional 2 in/5 out audio interface – and controller - designed specifically with the needs of the recording guitarist in mind, providing best-in-class sound quality and powerful features aimed squarely at making your recordings faster, easier and better than ever.
Видео
AXE I/O offers an exclusive triple-topology, fully discrete input circuit, with both PURE and JFET input stages, to go from transparent to tube-like with just a single switch.
Its patent-pending Z-Tone™ impedance-adapting circuit interacts with your guitar's pick-ups to give you a massive range of tonal flexibility, you've never heard before.
Plus AXE I/O includes a dedicated Amp Out, so you can process your recording with real guitar amps and stomps without the need for external accessories (and without having to unplug your existing connections!). This low-noise out also eliminates ground loops, to keep even the highest-gain re-amplification as quiet as possible.
24-bit, 192 kHz conversion and an ultra-stable, low jitter internal clock ensures the highest fidelity, whether you're capturing vocals, acoustic instruments, amplified guitar or just direct signal for use with AmpliTube.
AXE I/O's main channel offers 3 different circuit topologies – that means you have 3 different options to adapt to any type of guitar, pick-up and style so you can always dial in the perfect tone from any instrument.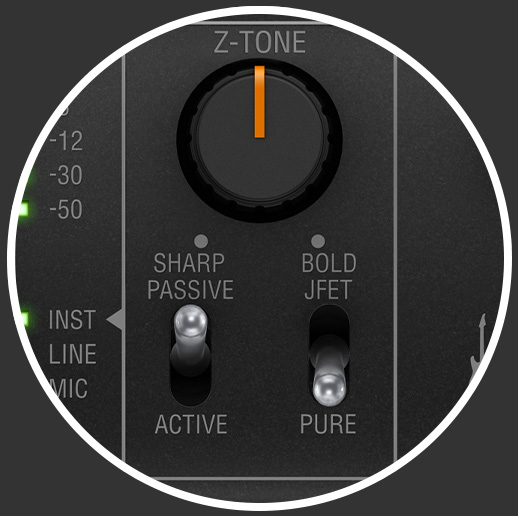 PURE: a completely transparent and ultra-accurate instrument preamp that won't color
your sound in any way.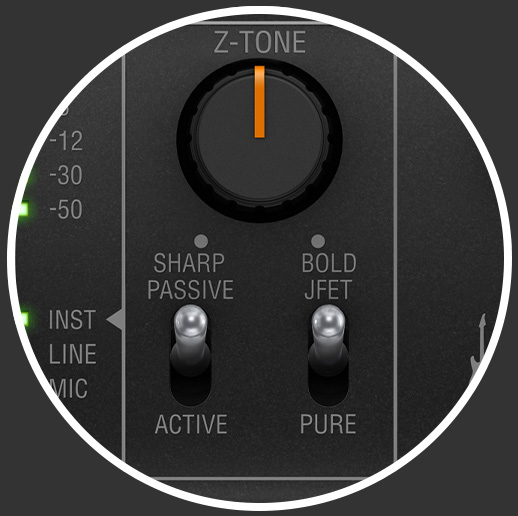 JFET: a Class A JFET input buffer to add subtle harmonic enhancement. A slight midrange focus adds warmth, giving you more tonal options from the same instrument.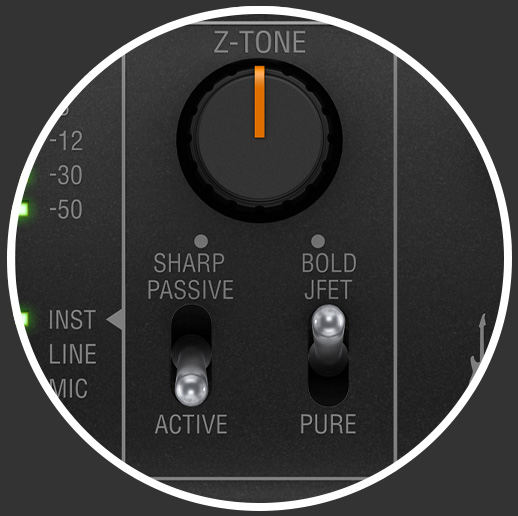 ACTIVE: bypasses unnecessary gain stages when using active pick-ups, to keep your signal path as direct, transparent and clean as possible.
What's new in AXE I/O Control Panel v.1.1.0
Route instrument input 1 directly to the Amp output to record both DI and amplified signals simultaneously, with zero latency.
Tuner can now be configured to mute inputs when engaged, for silent tuning.
Outputs 1 & 2 can now be mirrored to outputs 3 & 4, to send the same signal to two different destinations more easily.
Спецификации
Connections
2 in / 5 out (one low-noise Amp out)
2 ultra-low noise mic in/balanced line in
Triple topology guitar input with Z-TONE™
2 balanced monitor out / 2 line out
Reference headphones out
2 fully configurable external control input
MIDI input/output
USB 2.0 compatible with Mac/PC
Best-in-class guitar tone
Selectable Active/Passive/discrete JFET/Pure instrument preamp
Patent pending Z-TONE™ input for a tonal palette never heard before
Amp out can connect to amps and stomps without ground noise
Connect up to 2 expression pedals, single and double-switches
Fully assignable data-knob – for AmpliTube preset browsing and more
Built-in Tuner
Rugged/compact metal housing
Includes AmpliTube 4 Deluxe
Premium studio sound
High-resolution ultra low-noise Class A microphone preamps
Best-in-class conversion and superior analog design
Asynchronous USB audio, ultra low conversion jitters for premium quality
117dB dynamic range
Includes control software
Up to 192 kHz sampling rate
Includes 10 T-RackS high-end plug-ins and Ableton Live 10 Lite
В кутията
AXE I/O
USB A-Type to USB B-Type connection cable (1.5m)
Още
Гаранция
2 години
За производителя
IK Multimedia е компания, основана през 1996 година в Модена, Италия.
Mарката произвежда най-различни продукти за запис и създаване на музика. През последните години тя е изключително актуална със своите приложения и аксесоари за платформата на Apple - IOS и продуктите iPhone, iPod Touch и iPad.