Описание
Providing 17 distinct, fully analog drum and percussion instruments with an intuitive sequencer, massive connectivity, a two-mode Steiner-Parker filter, and dynamic performance controls, DrumBrute will take your beat production to the next level.
Create energetic and exciting drum beats with a single, user-friendly device. With its vast sonic potential and smooth workflow, DrumBrute meets and exceeds the expectations of demanding musicians. Bridging the gap between inspiration and technology, DrumBrute offers punchy analog drum sounds, advanced 64 step / 64 pattern sequencing possibilities and ultra-effective performance controls.
Видео
Every single one of the seventeen drum & percussion parts is 100% analog, and carries the savage DNA of the Brute synth family. DrumBrute is fully polyphonic, so all of its sounds can be played simultaneously and twisted by the nasty two-mode 12dB Steiner-Parker filter.
1. 17 Pure analog drum sounds
All analog, all the time. Two flavors of kick drums, wide-ranging snare and clap settings, two hi-hats with separate tone and decay controls, and more. The DrumBrute offers a wider sound palette than any other analog drum machine on the market.
2. 64 patterns with up to 64 steps
Easily create your own patterns by using the STEP and ACCENT buttons or play them in real-time from the pads. The looper lets you instantly modify your beat and create real-time pattern effects, making this the perfect performance drum machine.
3. 16 Songs
Make your own song by chaining up to sixteen patterns.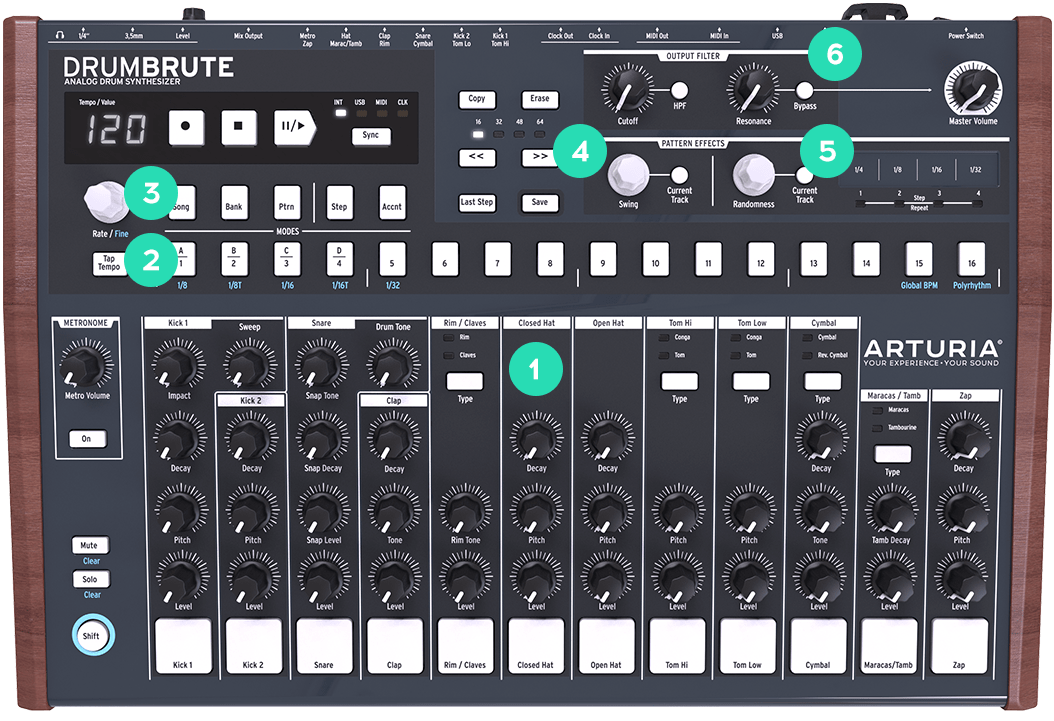 4. Swing
Swing can be global or per drum. This gives your music a feel and groove that will light up the dance floors.
5. Randomness
Randomness can be applied to all instruments globally or to individual tracks. This ranges from adding small variations to change the feel, to huge variations generating crazy, random patterns for more experimental music.
6. Output filter
The Steiner-Parker filter on the output allows you to create interesting sweeps and do on-the-fly tricks like dropping out the bass and emphasizing the highs, ready to kick in the low end at a moment's notice.
7. Sync to the world
DrumBrute can sync to external MIDI devices, vintage sequencers using DIN sync, modular synths with 1PPS clock and to a computer via USB. The DrumBrute is made to be the rhythm center of your production setup.
8. Headphone outputs
3.5mm and 1/4" outputs allow you direct connection with any kind of headphone.
9. Individual outputs
You can listen to and mix all your drums via the MIX output or you can remove them from the mix by connecting to the individual outs. This allows for external processing of each sound.

10. Connectivity
With USB, MIDI, and our trademark clock & DIN sync I/O, you can connect to almost any device on the market today.
11. Power input
12V DC input powers the amazing sound of this drum machine. The strain-relief T-bar will prevent your DrumBrute's power from accidentally disconnecting.
Характеристики
17 pure analog drum sounds

Kick 1, kick 2, snare, clap, hi-hat 1, hi-hat 2, conga hi, conga low, tom hi, tom low, maracas, rimshot, clave, tambourine, cymbal, reverse cymbal, zap.
Wide-range controls allow for many new and unique sounds.
2 different flavors of kick drums
Our unique analog Reverse Cymbal

64 patterns with up to 64 steps each
Separate accent per drum
Song mode for chaining patterns
Pattern effects

Swing that can be global or per instrument
Randomness per instrument for generating variations.
Pattern Looper for beat repeat functions

Steiner Parker output filter with bypass
Multiple sync options

Internal
MIDI
Clock
1PPS, 2PPQ, DIN24, DIN48

USB MIDI interface
Mix audio output (unbalanced 1/4" jack)
Individual audio outputs (unbalanced 3.5mm jacks)
Headphone output with both 3.5mm and 1/4" jacks
Create polyrhythms

Each drum track can be a separate length.
В кутията
Още
За производителя
Founded in Grenoble, France, in 1999, Arturia specialises in the development of music software and hardware for professional and amateur musicians.
Focusing on innovation, we strive to integrate the latest advances in computer music research and technology into our products. This involves working closely with partner research institutions, in the development of cutting-edge musical instruments and software.