Описание
The chameleon controller and sequencer that provides nearly endless possibilities. With a compact format, it is the perfect companion on the road or in the studio.
BeatStep was designed to give you the control you need, whether you're working with your favorite DAW or loop triggering software, VST instrument or effect, drum software, DJ app, MIDI synth or even analog gear with CV/Gate inputs. The possibilities are nearly endless.
BeatStep fulfills multiple requirements for a wide variety of musicians. It's truly a chameleon, ready and able to become many things to many people. No other compact pad controller on the market offers this level of control plus a step sequencer at such an amazing price.
Видео
MIDI Controller Mode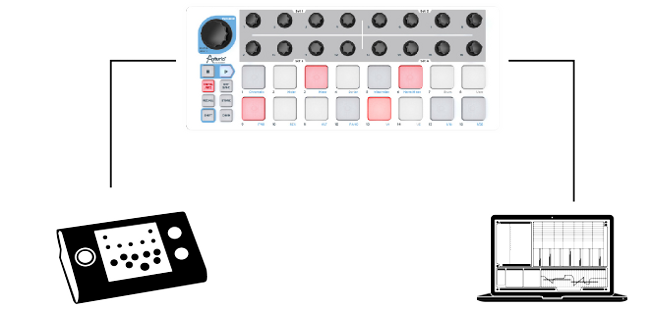 With 16 velocity- and pressure-sensitive pads, BeatStep is the perfect compact solution for playing percussion. The ultra-sensitive pads allow for great dynamic performances. The 16 encoders can be assigned to adjust parameters that allow further real-time control over your drum sounds.
The 16 pads can be configured individually for:
1. note generation
2. MIDI CC buttons
3. Sending program change messages
And with 16 user presets you can have a controller setup for every occasion.
Характеристики
Arturia's own Slimkey keybed with velocity and aftertouch
Arpeggiator mode:

Up, down, inclusive, exclusive, random, note order, double up, double down modes

Sequencer mode:

8 polyphonic step-sequences with Rest, Tie, and Legato note entry

Rate control and tap tempo:

REC, PLAY, and STOP buttons for performance control over the sequencer and arpeggiator

Sustain HOLD button
Sustain pedal jack
Chord play mode
SHIFT button selection:

MIDI channel selection, GATE time, SWING values

DC jack for standalone operation
USB MIDI connects to computers and our MCC editor
MIDI in/out ports
Sync i/o ports:

Supports 1 pulse per step, 2 PPQ (Korg Volca), 24 PPQ DIN sync, 48 PPQ DIN sync

Sync select switches:

Internal, USB, MIDI, Clock

CV/GATE outputs:

CV supports 1Volt per octave, Volt>Hz modes, Gate output 5V or 12V for modern or vintage gear support
CV Velo/Aftertouch/Modwheel output

Capacitive-touch pitch bend and mod wheels
Each sequence can have 64 steps, each step can have up to 8 notes
Low power; can be powered by Apple iPad® (camera connection kit required)
В кутията
BeatStep
Quick Start
USB cable
MIDI adaptor
Още
За производителя
Founded in Grenoble, France, in 1999, Arturia specialises in the development of music software and hardware for professional and amateur musicians.
Focusing on innovation, we strive to integrate the latest advances in computer music research and technology into our products. This involves working closely with partner research institutions, in the development of cutting-edge musical instruments and software.