For over 60 years, Moog theremins have captured the imagination of players and audiences alike. Most recently over the last two decades, Moog's Etherwave Standard and Etherwave Plus have set the bar of performance theremin design. Now, the all-time highest-selling theremin models get an update to become simply Etherwave Theremin.
Manipulate sound without touch
With no reeds to blow, no keys to press, and no strings to pluck, the theremin defies all expectations of a musical instrument. It is instead played in a manner that seemingly conjures music from the ether, simply through the motion of the body when close to the instrument. Throughout history, performers have achieved unprecedented expression by mastering this unique connection between the hands, the body, the environment, and the instrument.
The theremin's elegant simplicity and unparalleled expressivity fueled Bob Moog's lifelong love affair with the instrument, from building his first theremin at age 14 and completing his final theremin design at age 70. Today, Etherwave Theremin carries on this legacy with a design that is refined for the modern theremin performer.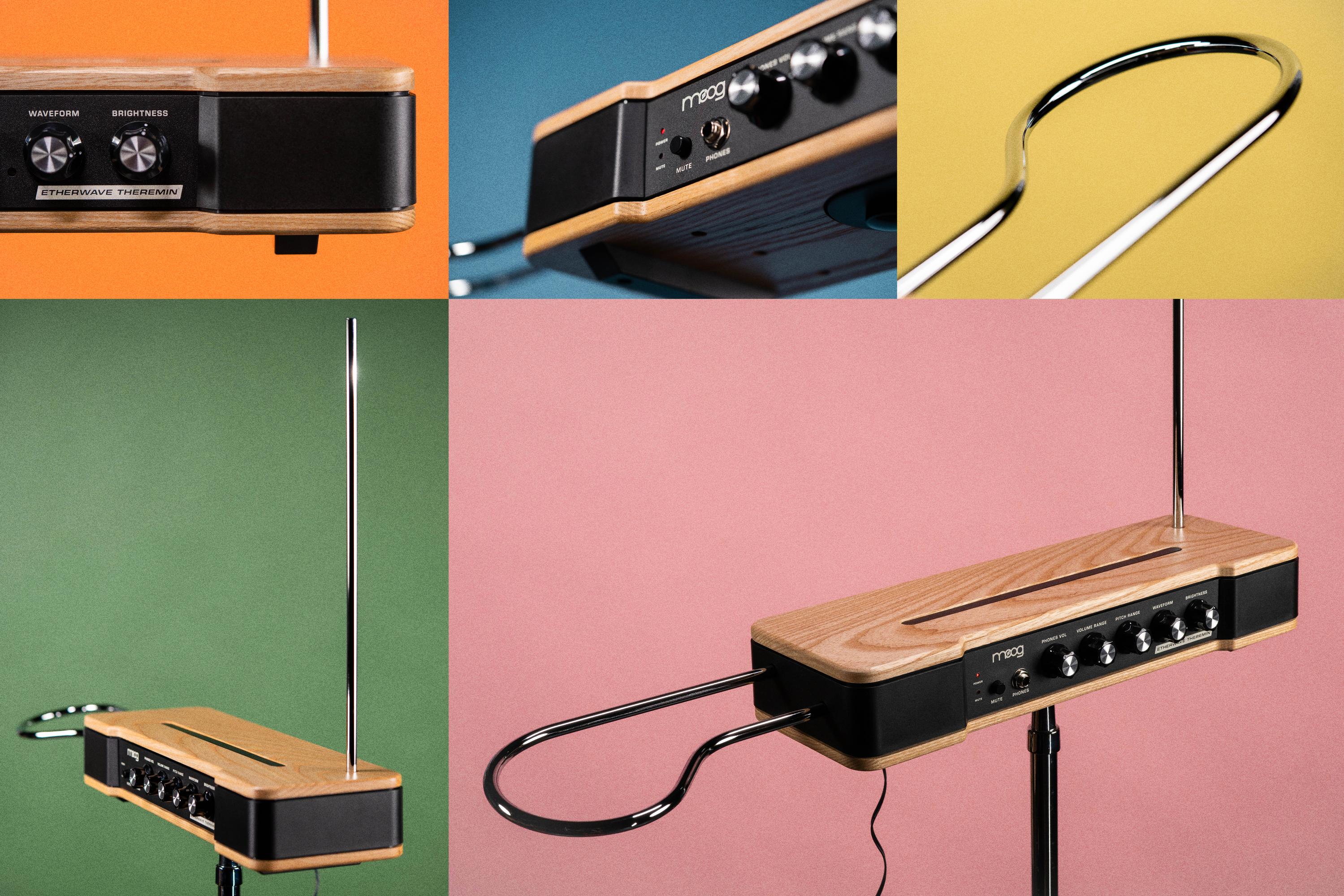 An authentic adaptation of Bob Moog's theremin designs
Combining analog playability with unprecedented performance potential, Moog's Etherwave Theremin provides an accurate five-octave pitch range and balanced spacing between notes for a highly sophisticated degree of playability. Updated analog electronics have been used to create Bob Moog's classic theremin circuit design while improving bass response in the lower registers.
The refined cabinet features hand-finished hardwood and two quick-release plated-brass antennas. Additionally, rear-panel I/O connections and a detachable mic stand adapter ensure quick setup on the go.
Dynamically track and control analog audio processing directly from your Theremin
Easily accessible front-panel controls allow for spontaneous changes in timbre, and the antennas' response can be adjusted to suit any player and their environment (advanced users can go a step further via the calibration access panel on top of the instrument). A front-panel headphone output—with dedicated volume control—pairs with the addition of a Mute button that silences the main audio output, while leaving the headphone output active for privately adjusting timbre and tuning.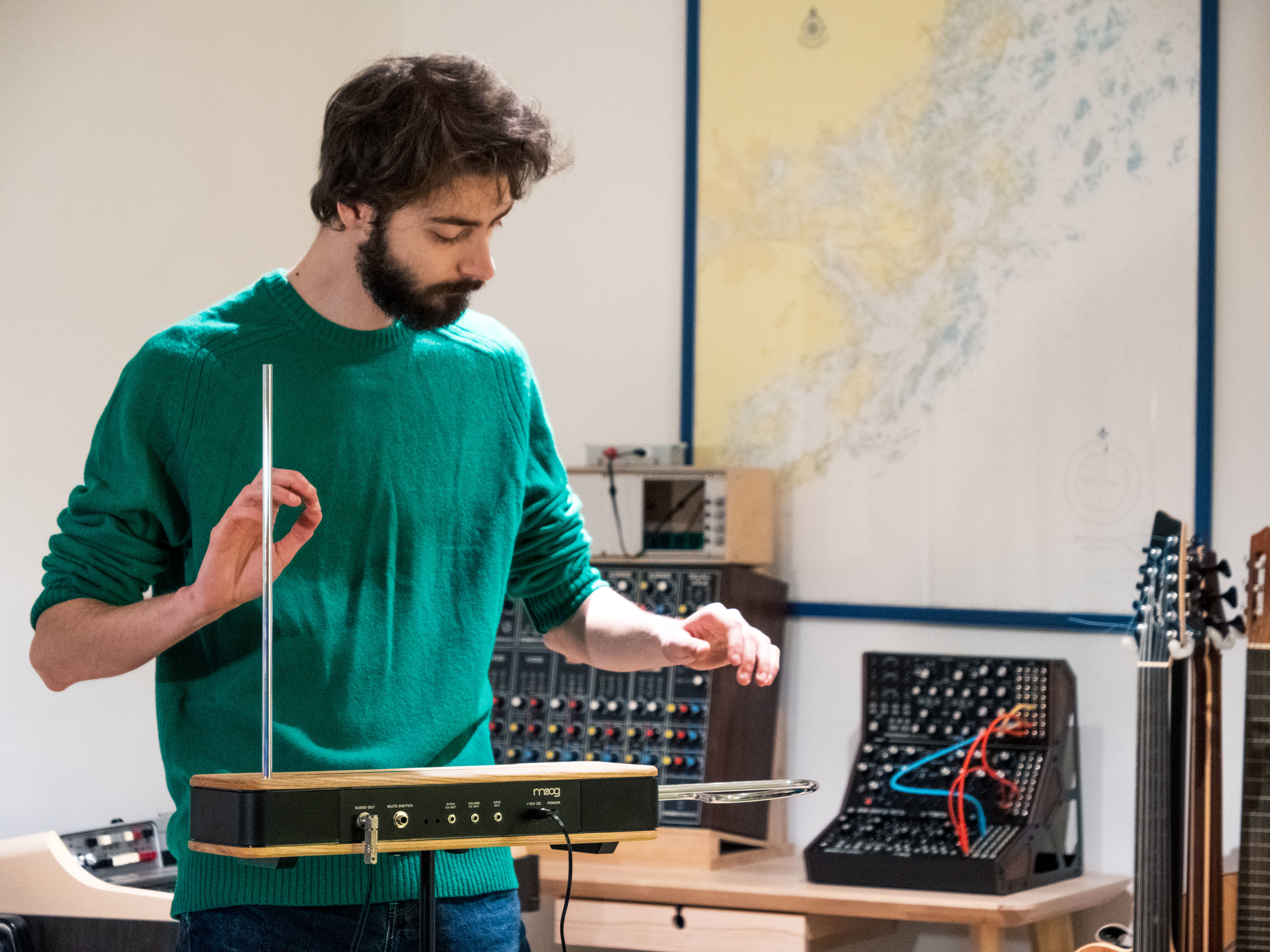 Connect Pitch CV, Volume CV and Gate outputs to your analog synthesizer for a completely new performance experience.
In addition, Etherwave Theremin can connect directly to—and control—your other modular, semi-modular, and Eurorack synthesizer systems via CV (Control Voltage). Control your synthesizers or effects while playing the theremin by patching into Etherwave Theremin's 3.5mm Pitch CV, Volume CV, and Gate CV jacks for a completely new performance experience.
For the novice enthusiast or the seasoned professional player, Etherwave Theremin offers exceptional sonics, playability, and control to take your sound into new dimensions.
Lost in the Ether by Professional Thereminist Grégoire Blanc
This new EP, composed and performed by French thereminist Grégoire Blanc, showcases Etherwave Theremin's ability to span a wide range of styles and genres. "This little four-track album is the result of some very spontaneous improvisations. Four short electronic pieces where the new Etherwave Theremin is, of course, the main character. Choosing the other protagonists was quite natural: Matriarch, DFAM, Subharmonicon, Mother-32," the electronic musician shares. "Making all these lovely instruments talk to each other was a lot of fun."
For Blanc, it's the "immediate joyful feeling" of experimenting with Etherwave and the semi-modular family together that brings this playful and lively EP to life.
Key Features
Improved bass response and stability in the lowest registers;
Updated antenna connections to enable quick assembly and easy removal for travel;
Quick-release mic stand adapter for attaching and detaching the instrument from mic stands;
Mute control for setting the instrument into a standby mode or used for "pitch preview" via headphones;
CV output integration from Etherwave Plus (Gate Out, Pitch Out, Vol. Out) for connecting with other modular, Eurorack, and CV-controlled instruments;
Още
Спецификации
SOUND SOURCE - Analog Heterodyning Oscillator
SOUND MODIFIER - Analog VCA
PITCH ANTENNA - Performance control of the frequency range, from approximately 0 Hz to 4.2 kHz, based on hand proximity
VOLUME ANTENNA - Performance control of the dynamic range of over 70dB, based on hand proximit
MUTE BUTTON - On: Audio Out muted; Phones Out active Off: All outputs active
SWITCH JACK - 1/4" jack for momentary footswitch (not included) controls Mute function
POWER - LED indicator (front panel); Button (rear panel)
HEADPHONES - 1/4" output jack
AUDIO OUT - 1/4" Audio output jack
CV OUT - 3.5mm jacks for Volume CV Out, Pitch CV Out, Gate CV Out
POWER SUPPLY - Style: wall adapter; barrel connection; center-pin positive Input: 100 - 240VAC; 50 Hz - 60 Hz Output: +12VDC; 2A
Гаранция
2 години по ЗЗП.
За производителя
Moog Music е американска компания от Ашвил, Южна Каролина, САЩ, която произвежда електронни музикални инструменти. Компанията добива легендарен статус през 70-те години на 20 век със своите аналогови синтезатори, като нейните продукти се използват в редица стилове - рок, електронна, фънк, соул, а по-късно и в хип хоп музиката. Bernie Worrel използва Moog да създаде специфичния футуристичен звук на Paliament Funkadelic. Kraftwerk използват Moog за своя концептуален албум "Autobahn", с който създават един цял нов жанр и много последователи. Gary Numan заменя неговите китаристи на живо с Moog и поставя началото на стила индъстриъл. Класическия звук на тeзи синтезатори може да бъде чут в албумите на Bob Marley – "Catch A Fire", Michael Jackson – "Thriller", Dr. Dre – "The Chronic", Keith Emerson, Herbie Hancock и много други. През цялата си история Moog е бил използван от напредничави музиканти с идеята да формират звука на бъдещето.